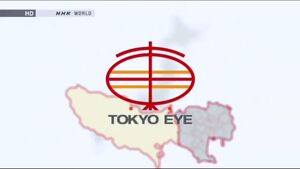 Tokyo Eye is a program on NHK World that showcases the latest trends, hidden attractions and events in and around Tokyo.
It is hosted by Chris Peppler and has foreign guest on the show acting as reporters, exploring events, fashion trends and areas that many people visiting or living in Tokyo may not know about.
Chris Peppler (Host)
Maxwell Powers (Narrator)
Alice Gordenker (Reporter)
Lindsey Sakamoto (Reporter)
Jason Hancock (Reporter)
John Daub (Reporter)
Felicia Gonzalez (Reporter)
Mibu Minaimi (Reporter)
Matt Alt (Reporter)
Rober Jefferson (Reporter)

Patrick Macias (Reporter)

May Pakdee (Reporter)

Adam Fulford (Reporter)

Jordon Cheung (Reporter)

Amy Ota (Reporter)

Akane Nakajima (Reporter)

Samantha Mariko (Reporter)

Cyril Coppini (Reporter)

Jennifer Julien (Reporter)

George Cockle (Reporter)

Alex Zelikow (Reporter)

Estella Mak (Reporter)

Valeria Mancini (Reporter)

Sebastien Pilotte (Reporter)

Professor Michael Pronko (Reporter)

Douglas Kirkpatrick (Former Narrator)
External Links
Edit
Ad blocker interference detected!
Wikia is a free-to-use site that makes money from advertising. We have a modified experience for viewers using ad blockers

Wikia is not accessible if you've made further modifications. Remove the custom ad blocker rule(s) and the page will load as expected.