Harumi's Family Cooking is a cooking special on NHK World. It is a spin off of Your Japanese Kitchen and hosted by Harumi Kurihara and George Williams, who is also joined by his daughter, Vivianne Williams. In the second episode, George and Vivianne are joined by his wife, Tina.
It is similar to the previous show, but with emphasis on teaching kids to cook 3 simple Japanese dishes with their parents, so the guests on the show are accompanied by their children. It is also filimed around various parts of Japan instead of Harumi's kitchen in Tokyo. During each episode, she also visits local shops, explaining about some the ingredients that will be used for the episode, as well as the history of the area.
Also, unlike Your Japanese Kitchen, Harumi speaks Japanese about 50% of the time on the show, whereas on her other show, she spoke entirely in English (although slowly). So the show is subtitled at certain times, but otherwise is in English.
1. Harumi's Family Cooking (April 29, 2012)
Guests: Rachel and Rosemary Bautista Cruz (Philippines), Merideth and Sebastian Cardena (USA)
Dishes: Tsukune with Teriyaki Sauce, Inside-Out Sushi Rolls and Pancakes
2. Harumi's Family Cooking in Shimoda (Sept. 1, 2012)
Guests: Tina and Vivianne Williams (USA), Hugh and Jun Nelson (United Kingdom)
Dishes: Hachimoku-mame (Simmered Soy Beans and Vegetables), Deep Fried Mackerel Dumplings and Almond Cookies
3. Harumi's Family Cooking in Kitakyushu (April 27, 2013)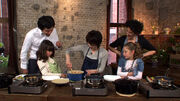 Guests: Marne and Kaia Hicks (Canada)
Dishes: Deep Fried Fish with Japanese Sweet and Sour Sauce/Dill Sauce, Rice Mixed with Beef and Bamboo Shoots and Eggs